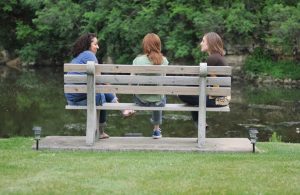 The onset of mental health disorders often happens early in life. Sometimes, mental health concerns appear in childhood or adolescence. But often, the first signs that someone might be struggling with a mental health disorder occur during young adulthood, from ages 18-25.
Mental health advocacy organization Active Minds shared several statistics that help illuminate the prevalence of mental health concerns among young adults and emphasize the vital need for treatment:
An estimated 75% of mental health concerns begin by age 24.
Around 39% of college students suffer from a significant mental health concern.
Around 67% of people ages 18-24 who have anxiety or depression do not seek treatment.
Recent national survey data also points to the high prevalence of mental health concerns among young people. In 2021, an estimated 6.2 million young adults ages 18-25 experienced symptoms of a major depressive episode in the past year. In the same survey, 11.3 million people ages 18-25 had past-year symptoms of a mental, emotional, or behavioral health concern, which amounted to 33.7% of people in this age group.
Mental health disorders, which include anxiety, depression, bipolar disorder, and posttraumatic stress disorder (PTSD), can deeply impact the way people think, feel, and act. These disorders can range from mild to severe, and because they often affect a person's cognitive and emotional functioning, they can be very disruptive to everyday life.
Mental health disorders are similar in many ways to physical health conditions. And thinking about mental health in the same way you might think about physical health can be a helpful way to determine whether you or someone you love may need professional support. For example, if mental health symptoms have become serious, persistent, and difficult to manage on your own, it may be time to seek care from a professional.
When it comes to physical health conditions, many people understand that without treatment, the condition may get worse or lead to other complications. The same is true for mental health disorders. Left untreated, mental health concerns like depression and anxiety can lead to negative physical, emotional, and social consequences, including higher risk for suicidal thoughts and actions. In 2021, 4.8% of U.S. adults had serious thoughts of suicide during the past year, and the percentage was highest for those ages 18-25, at 13%.
It's crucial for anyone who is struggling with a mental health concern, including thoughts of suicide, to receive care and support to heal, improve their well-being, and prevent harmful outcomes. Mental health concerns are highly treatable, and suicide is preventable with effective support.
If you're struggling with symptoms of a mental health concern, here are some additional reasons to consider seeking treatment:
Many effective and diverse forms of treatment are available, including therapy, family support, and medication management. At a qualified treatment center, you can receive a thorough assessment of your needs and a recommendation for the right level of services for you.
The earlier someone receives care for a mental health disorder, the better their treatment outcomes are likely to be. Prompt care can help you reduce the severity of your symptoms and achieve better health in the future.
Asking for help for a mental health concern shows strength and courage, and it can be a key component of your self-care. Though it can be difficult, try not to let fear or stigma prevent you from taking care of your physical, mental, and emotional needs.
If you are struggling with a mental health concern, you are not alone, and it is OK to ask for help. By recognizing the signs of a mental health concern, honoring your intuition about your health, and receiving appropriate mental health treatment, you can begin to heal and lead a more fulfilling life.
If you are experiencing thoughts of suicide, help is available. Please call 911 or contact the 988 Suicide & Crisis Lifeline (formerly the National Suicide Prevention Lifeline) by calling or texting 988 or chatting at 988lifeline.org.
If you are interested in learning more about the programs available at Timberline Knolls, give us a call or send us a web form today!