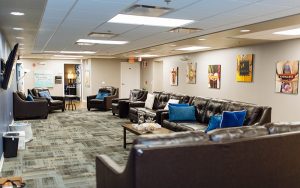 "One day at a time." If you've been through treatment for any sort of life controlling issue or addiction, you have likely heard this phrase and committed it to memory. Perhaps you repeat it to yourself daily as part of your affirmations. But exactly how we spend each one of those days, taken as they come, one at a time, makes all the difference in early recovery.
The continuing care program at Timberline Knolls provides an excellent opportunity to spend those days of early recovery practicing the skills you worked so hard to develop in residential treatment. An outpatient program individualized to your unique needs, the PHP program at TK offers a structured day program designed to support your recovery goals while allowing you the freedom to have your evenings to yourself, to be with family (if you are local), or to work or attend meetings.
You may ask "How do I know if PHP is right for me?" Our continuing care program has been designed to be an extension of the care and support you received at Timberline Knolls, but you may also have the option of admitting directly to PHP without a previous residential stay— or, there's always the option of returning to TK for our continuing care program if you discharged home after residential to find that you were not quite ready to be away from treatment altogether. In other words, our PHP program is here for you — whenever you need us, in whatever capacity. Our goal is to meet you where you are, and take you closer to where you want to be.
At the continuing care level, you will have access to your cell phone and/or laptop computer, making it easier to stay connected to your sponsor, your friends in recovery, and your new recovery community: The TK Alumnae! Our privacy-protected Facebook group ("TK Alumnae Official") offers you an instant community of likeminded recovery-focused individuals who have been where you have been and who "get it." TK Alum Nights are held the last Friday of every month over Zoom, allowing you to log in and listen to others' recovery stories and interact with those who have journeyed further down the recovery path and who have returned to share their experience and hope.
Whatever you find yourself today, as you continue to walk out your recovery one day at a time, our continuing care program is here for you — and we would love the opportunity to come alongside you to help you meet your recovery goals.