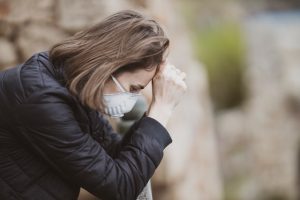 Given the COVID-19 pandemic, women now face additional stressors that can diminish their mental wellness. From increased home responsibilities to loss of employment and compromised health, many women are vulnerable to developing mental health conditions that can lessen their quality of life.
For some women, increased childcare responsibilities have put enormous pressure on their shoulders. Many children are staying home because of school closures associated with the pandemic, and they need round-the-clock supervision. Kids may have trouble focusing in online classrooms and need additional help with homework, forcing mothers to become the "teacher" at home.
Women who have children age 18 and younger are more likely than men to struggle with mental health concerns due to COVID-19. Increased home obligations create less time for self-care, which can lead to stress and burnout. Social distancing protocols also discourage in-person socializing with friends, leaving women without the encouragement and support friends provide.
Working mothers must also juggle both work and childcare. For those who work at home, they may struggle to keep their children occupied during work hours. Children can become resentful, and women may feel guilty because they can't give more attention to their children.
Due to childcare concerns, some women have either reduced their work hours or quit their jobs completely. Since the pandemic started, women are four to five times more likely than men to reduce work hours to care for children. This is especially difficult for single mothers who do not have the support of a partner or other family members. Loss of income and benefits makes it harder to pay the bills, and the threat of poverty creates enormous anxiety.
Women occupy one-third of essential jobs, especially as social workers, nurses, pharmacists, and grocery store cashiers. While there is a benefit to remaining employed during an economic depression, essential workers risk contracting the COVID-19 virus and bringing it home to their families. This is especially worrisome if they are caring for older adults or people who have immune system problems. There can be feelings of guilt if this occurs.
Industries that employ large percentages of women have laid off staff. This includes food service, retail, hospitality, and domestic work. Many of these are direct service positions in which workers meet customers face to face, and these jobs have been eliminated due to social distancing orders. This job loss overall can lead to depression and feelings of low self-esteem.
Since the pandemic started, rates of domestic violence have increased, and women are reporting incidents in later stages of the abuse cycle. They may experience physical violence, sexual abuse, and emotional harm. Social distancing can cause women to become isolated, leading to feelings of helplessness, depression, and posttraumatic stress disorder (PTSD). They may also have less of a chance of escaping these relationships because they might be financially dependent on their abusive partner.
Numerous pressures and social isolation have caused an increase in substance use amongst women. They may turn to drugs or alcohol to alleviate stress, and this can lead to addiction. Isolation is especially harmful for those who have preexisting substance use struggles already. In-person support meetings such as 12-Step groups are mostly canceled due to restrictions put in place because of the new coronavirus, and women may not get the support they need to remain in recovery.
With the added stressors women are experiencing due to COVID-19, it is important to exercise self-care. Here are some ideas for you to try:
Go outside to get some fresh air
Take walks or get some exercise
Reach out to friends via texts, video chats, and phone calls
Limit the time you spend watching the news, which can be distressing
Take up some new hobbies, such as doing crafts, playing a musical instrument, or reading books
Establish a daily routine by sleeping and eating at the same time each day
If you need additional support, know that there is no shame in seeking professional treatment. Doing so can be a gesture of self-care, helping you to persevere during this difficult time.