An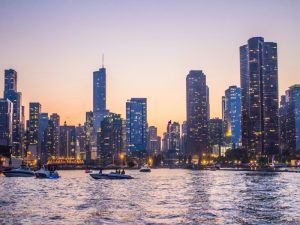 untreated eating disorder can have a devastating impact on virtually all aspects of a person's life. It is not an overstatement to say that the effects of eating disorders can be literally life-threatening. For example, anorexia nervosa, which is a type of eating disorder that is characterized by extreme food restrictions due to an intense fear of gaining weight, has the highest mortality rate of all mental health disorders.
Any adult woman or adolescent girl who is struggling with an eating disorder in the Chicago area could have serious medical complications. She should be brought to the attention of a qualified healthcare provider as soon as possible.
The Need for Eating Disorder Treatment in Chicago
Studies suggest that the lifetime prevalence of eating disordes among women in the U.S. may range from 9% to 15% in the female population. According to the U.S. Census Bureau, the city of Chicago is home to about 1.3 million female residents. This means that over the course of their lifetimes, between 117,000 and 195,000 girls and women may need eating disorder treatment in Chicago.
Women and girls who are searching for a Chicago eating disorder treatment center can receive the superior care they deserve at Timberline Knolls Residential Treatment Center. Our facility is located just a short drive from the city, which makes us an ideal resource for those who have been seeking eating disorder treatment in Chicago.
Our nationally recognized Chicago eating disorder treatment program provides individualized services for adolescent girls ages 12-17 and adult women age 18 and older. We serve female patients who have developed anorexia, bulimia, binge-eating disorder, avoidant/restrictive food intake disorder (ARFID), and other eating disorders, as well as those who are also struggling with co-occurring substance use disorders or other mental health concerns.
Therapies Used in Chicago for Eating Disorder Treatment
Each girl or woman who receives care at our Chicago-based eating disorder treatment facility follows an individualized plan. Depending on various personal factors, that plan may include elements such as:
Individual, group, and family therapies
Cognitive behavioral therapy (CBT)
Dialectical behavior therapy (DBT)
Art and dance/movement therapy
Additional support for co-occurring disorders if needed
Detailed discharge planning
Medication management services
Why Choose Eating Disorder Treatment in Chicago
Timberline Knolls is a located just outside of Chicago and offers eating disorder treatment with the following benefits for women and girls:
A safe, supportive, and welcoming environment
The option for adult women to step down from residential care to our partial hospitalization program (PHP) with housing. All services at both levels of care are offered at our eating disorder treatment facility near Chicago
Research-supported therapeutic services that have a documented history of success at helping women and girls
Optional Christian treatment track for those who wish to have the principles of their faith incorporated into the care they receive at our eating disorder treatment
A team of experienced eating disorder treatment professionals who are focused on providing individualized services for women and girls
A vibrant alumnae group that includes women and girls from across the United States who have the shared experience of receiving care at our Chicago-based treatment facility
How to Get Eating Disorder Treatment in Chicago
When you're searching for eating disorder treatment in the Chicago area, it's important to find the facility that is best prepared to meet your unique needs. Every treatment facility will have its own philosophy and approach to treatment.
Finding the provider who is best for you is a matter of determining which Chicago eating disorder treatment location offers the environment, services, levels of care, and continued support that best fit your strengths, needs, goals, and preferences.
At Timberline Knolls, we're happy to discuss our programming options and features of treatment with you at your convenience. A representative of our team is available to speak with you 24/7 to answer all your questions. The more we understand about your expectations, the better prepared we'll be to help you decide if our facility is the right place for you.
If you do decide to enter our eating disorder treatment facility in the Chicago area, we've designed an efficient admissions process that will allow you to start care with minimal delay. From your first call until long after you've completed treatment, we're committed to providing you with the service and support you need so that you can achieve the healthier future you deserve.