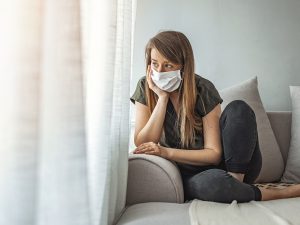 The mental health toll of the pandemic has hit America's young people the hardest.
Symptoms of depression and anxiety have doubled as a result of the COVID-19 crisis, as 25% of youths have experienced depressive symptoms and 20% have struggled with signs of anxiety, according to an advisory released by U.S. Surgeon General Vivek H. Murthy last month.
Murthy issued a 53-page document titled "Protecting Youth Mental Health" in early December, a rare warning and call to action to address the ongoing concern for America's youth brought on by the hardships of the pandemic.
These upward trends in mental health concerns are not entirely new. In 2019, 1 in 3 high school students and half of female students reported persistent feelings of sadness or hopelessness, an increase of 40% from a decade earlier.
"It would be a tragedy if we beat back one public health crisis only to allow another to grow in its place," Murthy wrote in a preface to the advisory. "Mental health challenges in children, adolescents, and young adults are real, and they are widespread. But most importantly, they are treatable, and often preventable."
The pandemic added to those already accumulating mental health challenges for young people. Suddenly, many schools chose remote learning. After-school activities and athletics were either greatly disrupted or canceled altogether. Some students rarely saw their friends at all outside of a tiny box on a computer. Many didn't get to experience key milestones like graduation.
It has been even worse for young people who were particularly vulnerable to begin with. That list includes racial and ethnic minorities, youths who have disabilities, the LGBTQ+ population, those from economically disadvantaged households, and children involved with the child welfare or juvenile justice system.
Murthy's advisory outlined a series of recommendations across 11 sectors, which included young people and their families, educators and schools, and media and technology companies. Some of the most relevant recommendations included:
Recognizing that mental health is a vital part of everyone's overall well-being
Supporting the mental health of young people in educational, community, and child care settings
Hiring more individuals in the education and early childhood sectors
Addressing the economic and social barriers that contribute to poor mental health for young people, their families, and their caregivers
Ensuring that every child has access to high-quality, affordable mental health services
Empowering young people and their families to learn from and understand difficult emotions
The good news is this: Mental health has become such a hot topic among young people that they're often both energized and knowledgeable about when and where help may be needed. They can recognize signs of when friends are struggling, and some people have already helped create school mental health clubs, which are designed for students to help their classmates understand the resources available to them for seeking help.
If there's a young person in your life whose routine has been upended by the pandemic — and, at this point, that's nearly everyone — check in on them. Offer them a friendly ear, and ask if they have a support system in place to discuss the struggles so many are experiencing.
Encourage them to step away from social media, which in excess can lead to a number of negative health habits. Tell them to spend more time being physically active. Provide suggestions for safe activities they can enjoy with friends.
As valiant as efforts like these are, sometimes they may not be enough. Treatment can help, and as more and more young people recognize the value of positive mental health, the stigma of seeking professional intervention dissipates bit by bit.