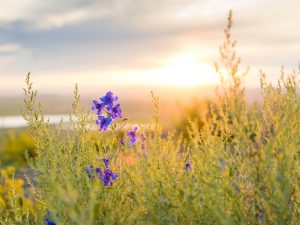 September is designated as National Recovery Month, and each year, these 30 days are used to highlight the importance of seeking recovery from a wide range of mental health issues, the need for equitable access to quality care, reduce the stigma of seeking help, and recognize the hope that is possible in recovery. These are all excellent and noble goals, and as an organization and staff at Timberline Knolls, we are fully invested, heart and soul, in our clients' recovery, and support these efforts wholeheartedly.
In this blog, however, I would like to add some nuance and dimension regarding the idea of recovery. The desire to do so came about as a part of a conversation I had with a Timberline Knolls alumna as we were discussing her recovery in preparation for her appearance as a guest on our Instagram Live interview series, "Honest Talk," which I host each Tuesday morning.
We were sharing our respective recovery journeys, their similarities and differences, and as we did so, it became apparent that we both really resonated with the idea that "recovery" or the idea of being "recovered" is not some magical place or destination where all life's problems are solved and one is happy all the time. We both expressed that years after our initial treatment, we realized that "recovery" from the behaviors of the eating disorder didn't solve all of the other relational, situational, traumatic or other issues. In fact, some of them got WORSE after our eating disorder recovery! But that was because the eating disorder was serving a purpose of distraction and numbing from the other adverse emotions or pain of life, and so only once "recovered" from the eating disorder behaviors could we now focus on healing other areas of our lives that had been neglected and ignored for so long. Recovery from the eating disorder wasn't a promise of some perfectly healed place, but the beginning of becoming a whole new person which would be a life-long process.
The other element of recovery not often addressed but that this wise alumna and I discussed, was that, especially for those who first seek treatment at a young age, sometimes we have to relearn the lessons of recovery in different ways in later phases of life. Recovery isn't "one and done." There are certain seeds that are sown in our early recovery that do not "bloom" in our hearts, or the understanding is not fully embodied until years later. And so, in the early years of recovery, one cannot rush the illumination process. There are lessons you learn in each year, in each season, that become more "true" as we grow, experience life, and mature. And just because we may, in a different season, start to struggle with body image, or see our body change, or experience anxiety does not mean we are relapsing. It may require us to seek extra support during challenging times, but we can give ourselves grace, knowing that each season of life's storms can also bring about tremendous victories so that a recovery is maintained and sustained over a life time – yielding consistent growth, rather than stops and starts. Rather than recovery being a "place" you reach, it is a mindset of growth, acceptance and grace which is practiced every day anew.
During this Recovery Month in 2021, I would encourage us all, wherever we are on the journey, to disregard the label of "recovered," or the idea that one recovers and then all of life, for the rest of one's life, is problem-free. Recovery is actually the beginning of discovering a new you, and continuing that process of evolution and healing for each day we're blessed to have on this earth. Give yourself grace as you grow and change and learn new lessons of how to be and how to heal. Accept where you are today, rather than wishing for some "you" in the future to materialize. Today is a gift, and wherever you are in recovery today is exactly where you are supposed to be. Embrace that and breathe, and give thanks.