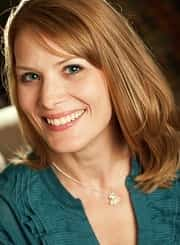 Jena Morrow, CADC
Alumnae Coordinator
"My passion for the work I do at TK is two-fold: First, it is born out of my own experience as a woman in recovery from an eating disorder. As one who has been 'in the trenches,' I bring a certain compassion and understanding to my role. Second, I have a deep desire to bring a living hope to those who struggle with the issues we treat. I firmly and passionately believe that, through a strong support system, skilled therapeutic intervention, and an ultimate surrender to a Power far greater than herself, every single woman we treat has the potential not only to learn to cope with her disease, but to truly live life as an overcomer."
As the Alumnae Coordinator at Timberline Knolls, Jena develops and maintains relationships with former TK residents after they return home. This is accomplished via phone, email, social media, and other avenues of communication. She is responsible for producing and facilitating various alumnae events, including monthly on-campus gatherings as well as an annual retreat in the Chicago area. She is constantly striving to grow and evolve the alumnae program, which she helped create, and manages an active Alumnae Board and network across the country and world.
In addition to keeping our former residents connected on their recovery journey, Jena runs a free, monthly, confidential online support group for Timberline Knolls called Lift the Shame. This is the first web-based support group of its kind specifically designed to offer support and resources to pregnant women and moms with eating disorders.
In 2010, Jena authored Hollow: An Unpolished Tale (Moody), which chronicles her battle with an eating disorder since her teenage years. In her second book, Hope for the Hollow (Lighthouse Publishing), she offers a practical and relevant devotional guide/journal to gently encourage and inspire women who struggle with themselves and their bodies.
As a national eating disorders awareness advocate and professional speaker, Jena has traveled throughout the country sharing her recovery story and delivering a message of hope and freedom from disordered eating and distorted self image.
Jena lives with her son Jaden in suburban Chicago, where on a good day she can be found typing away at her laptop, surrounded by two naughty cats and a good cup of coffee.