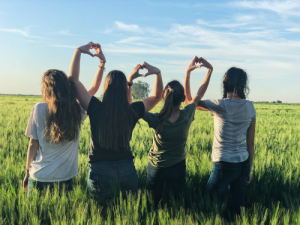 The journey to recovery from an eating disorder can be a lonely one. After an initial diagnosis can come the exhausting search for treatment, battles with insurers, a fumbling in the dark for answers and resources, and little connection to other individuals and families who are also battling the illness. Additionally, there is the feeling that if one speaks openly about their own or a loved one's struggle, they will be met with misunderstanding, stigma, and ostracization from "normal" people, friends, or family.  
My own family went through this when I was diagnosed with an eating disorder and throughout my time in treatment, and I've heard of and worked with countless individuals who have experienced similar feelings of isolation. But I will never forget the moment when I realized I was not alone and first experienced the empowerment of belonging to the recovery community.  
It was during my first trip to a national eating disorders awareness conference. I was 18 years old and had volunteered to be a helper for the organization. I was admittedly nervous, and I had no idea what to expect. Then, at one general session, we were asked by the speaker to get up from our tables and form a circle around the room. There were more than 500 people in attendance, including treatment professionals, nonprofit advocates, students, and researchers. Looking at all the faces present in that circle, I was overcome by emotion.  
Here was a community of leaders, caregivers, advocates, lifesavers – all fighting so that people like me could achieve recovery, get access to quality care, and live a full life free from eating disorders. Many within this community had recovered themselves and were serving as beacons of hope in their own way. They were writing books, lobbying on Capitol Hill, working at treatment centers, pursuing the latest research questions. We were all on the same team, working toward the same goal: to prevent, treat, and educate people about eating disorders so that individuals from all walks of life could find freedom.  
I found myself wishing that I had known this community existed during weekly weigh-ins, therapist sessions, and all those times when I felt so lonely, cold, and empty. Or when I faced my plate at dinnertime. Or when I had wondered if recovery was really possible. I wished I could have had those warm, kind faces in my mind's eye, and I wished my parents could have too. I realized in that moment of being surrounded by other recovery warriors that I wanted to be part of this advocacy community and help others to know that, even in their darkest moments, they were not alone, not "abnormal," and not hopeless.  
In those other faces at the conference there was hope – and I wanted to be a part of helping to spread it.  
Later, I was fortunate enough to be able to share my own recovery journey on a national platform, get involved in advocacy efforts at the grassroots level, speak with residents at treatment centers like Timberline Knolls, start a nonprofit to try to assist families with treatment costs, and even lobby the U.S. Congress for the passage of the Mental Health Parity Act and other legislation related to eating disorders.  
Becoming an advocate has always felt like a blessing. It is a way to pay it forward to those in the recovery process in the same way that I was encouraged and inspired many years ago. Advocacy is a powerful way to raise our collective voices to inspire societal change, get the attention of our lawmakers, and most importantly, spread the message that families who battle this disease are not alone, and there is hope.  
Therefore, this Eating Disorders Awareness Week, I would like to challenge you to find a way in which you can advocate and find community. Recovering from an eating disorder is a tremendous victory and should not be kept hidden in the shadows. Every time you share your story, attend a walk or awareness event, get involved in an alumni Facebook group, or post on social media, it is an opportunity to spread light and proactively help reduce stigma.  
Eating disorders thrive in isolation, but with connection, community, and collective action, there is healing and there is hope. Your experience and journey is valid and deserves to be heard. Your voice is powerful, and together, our voices can save lives.