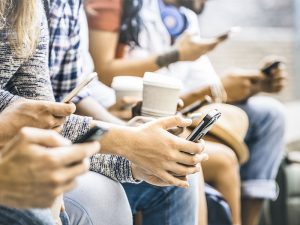 It is the holiday season, which means social media feeds are already teaming with images of families seemingly joyous together, gargantuan gatherings and meals, festivities galore and much, much more. But the holiday season is not the concern in this blog, rather, it is the role that social media plays when it comes to mental health, especially at a time of year when people's social media use (and abuse) reaches a fever pitch.
It comes as no surprise to hear that recent research confirms the suspicion of many behavioral health treatment professionals, teachers, parents and advocates that work with young women: prolonged social media use negatively impacts mental health, body-image and self-esteem.
As one example, according to the 2017 Girls Index Report, teenage girls who spend the most time using technology are also, "the most likely to say they are sad/depressed nearly every day, want to change their appearance, and not participate in sports, band, theatre, arts or other extra-curricular or enrichment activities."
Furthermore, as it relates to general mental health across populations (not just young women), a University of California San Diego (UCSD) Study published in the American Journal of Epidemiology found that "an increase in Facebook activity was associated with a future decrease in reported mental health, and nearly 63 percent of Instagram users report being miserable, a higher share than for any other social network."
We know that social media can be damaging, but we're effectively hooked, and it is devastating the next generation of young women. What can be done?
Social media is not likely going away any time soon, but that is not all bad news. In fact, there can be undeniable benefits, including connecting and staying connected with old friends, with support groups, developing personal businesses and networking, and reading news and other educational articles. Social media and technology is the new "public square," making communication and connection easier than ever.
But just like in the "old days," when a conversation required speaking rather than typing, people can still be cruel, words can still provoke endless obsession and rumination, and conversations can still haunt us days, months or even years later. We as humans have not gotten "worse," rather the viral nature and constant logon availability that social media provides has perhaps provided an outlet for the worst expressions of our communication skills (or lack thereof).
Therefore, I will propose one, very simple way that we, as examples for our young people, can be a part of the solution: to try a "media diet." It follows that we will use whatever influence we have on the lives of young people to encourage them to do so as well. Research also shows that decreased time on social platforms and quality interaction can help mitigate negative effects.
Reflecting on these studies, I do not recommend to quit social media, but rather to replace endless scrolling, unconscious liking and commenting with intentionality. And perhaps "restrict" the time used on social media profiles to 30 minutes per day or less.  Set a timer on your phone to enforce it. We have the power to harness social media for good, but we must activate that power, and model it for the next generation.
Social media can be a tool – used for evil or for good. We must actively decide to do two things simultaneously: to be positive online (which means not posting only highlight reels, never insulting or tearing down, and joining support groups/pro-recovery communities), while also spending much less time engaging on it. Do a self-assessment: how much time do I really spend on social media, and am I using the time wisely?