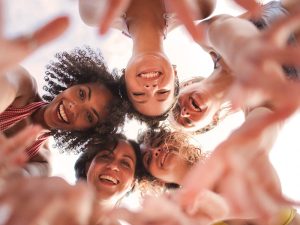 At Timberline Knolls, we've spent the last 14 years helping thousands of women and adolescent girls on their road to recovery from eating disorders, addiction, and mood disorders.
But, as many learn, recovery is a journey that lasts a lifetime. It takes continued support from every person in your life to ensure that you spend the days, weeks, and months following your discharge from Timberline Knolls building on the spiritual, emotional, and physical strength gained during your time with us.
The more support, the better.
That's our view, and that's why we created the TK Alumnae Program. It allows us to remain in touch with the residents who came to us for help, and it lets us continue to provide support as you embark on your unique recovery journey.
Why is our alumnae program so important? Research indicates that post-treatment relapse rates are highest in the first three months after discharge. And, while it's vital to have support from those closest to you, such as friends and family, some of the most meaningful connections in your life can come from those who have struggled themselves.
"It's so helpful for people to have a community to understand what recovery is like," says Jena Morrow, CADC, who has served as Timberline Knolls' alumnae coordinator since 2012. "People who are in treatment are used to the 'TK bubble' where everyone understands what they're going through, but that's not the case after they go home. It's so impactful to keep hearing stories of hope from someone who was on this journey."
Timberline Knolls has a multi-tiered alumnae program. Locally, the program offers area residents an informal monthly dinner/game night and a weekly speaker series at TK's PHP facility that features alumnae sharing their stories. There's also an annual summer retreat that has attracted upward of 100 guests per year since its inception in 2013.
For those outside the Chicagoland area, there's a private Facebook group of nearly 3,000 alumnae. According to Morrow, it's a community that's not only a network of support, but a place to celebrate milestones in recovery. The Facebook group also offers a chance to read personal stories from alumnae and work on skills honed during treatment. These can include:
Problem-solving skills. It's important to identify certain triggers that may lead to relapse.
Social skills. The simple ability to interact with the TK community can provide empathetic opportunities and allow you to develop more frequent communications with specific alumnae who are easy to relate to.
Stress management skills. Dealing with anxiety and remaining calm are two key elements of any recovery. Connections with those who are in a similar situation can help.
Cognitive coping skills. Staying in touch with your feelings and understanding how to react to negative thoughts or behaviors is often challenging. Hearing how fellow TK alumnae deal with the mental and behavioral health aspects of recovery can be valuable.
The main goal of any alumnae program is to help you avoid a relapse. By connecting with others who walked the halls at TK, you can build camaraderie and support that lasts a lifetime.
At Timberline Knolls, we pride ourselves on helping women whose lives have been disrupted by eating disorders and addiction rediscover their strength.
There's strength in numbers. If you don't believe us, just ask.
For more information about the Alumnae Program for Women and Girls at Timberline Knolls, contact Alumnae Coordinator Jena Morrow at jena.morrow@timberlineknolls.com or visit timberlineknolls.com/program/alumnae.