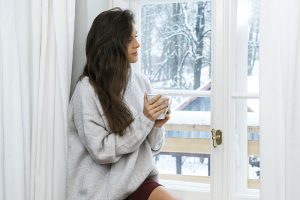 The holiday decorations have come down, everyone is back to busy work and school schedules, and we have all settled in for a few dark months before spring.  
This time of year can be incredibly challenging: The days are short, sunlight can be rare, and many parts of the country can be frigid. Seasonal affective disorder (SAD) is recognized in the fifth edition of the Diagnostic and Statistical Manual of Mental Disorders (DSM-5) and currently impacts an estimated 10 million Americans, with another 10–20% of the population suffering from mild SAD. 
SAD is more than just the "winter blues," and it can be a serious health issue that causes symptoms such as suicidal thoughts, hypersomnia, fatigue, feelings of hopelessness and sadness, difficulty concentrating, and avoidance of social situations. For those in recovery from an eating disorder, addiction, trauma, anxiety, or depression, the winter months can be doubly challenging if they also suffer from SAD [1]. 
Those experiencing SAD should work with a professional therapist or tell your treatment team the symptoms you are experiencing to receive collaborative, coordinated care that will address these concerns holistically. However, it is important for behavioral health professionals to be educated about SAD since this condition affects millions and is more likely to develop in individuals living with other psychiatric diagnoses. There are many preventive self-care measures that can be incredibly helpful in minimizing the impact that SAD can have on recovery. These protective factors are most often effective when combined with intentionality and preparation. 
Eating disorders, substance use disorders, trauma, personality disorders, and other co-occurring disorders can worsen when individuals isolate from their surroundings. SAD and the cold winter months tend to make staying inside and withdrawing from social interaction more appealing, but in reality we need the exact opposite for good health. Human beings thrive in community. Our brains, bodies, and souls are happier when we are with one another and in healthy relationships. It is still important to say "no" to certain events and people while engaging in some self-care with Netflix and a cup of hot tea. However, these choices are not always the right answers.  
Fresh air does wonders for our energy levels and our entire bodies. Staying active throughout the winter months has been shown to have positive effects on mental health. Continuing to meet with friends and staying connected with social groups and activities keeps us accountable in our recovery by helping us know that we are not alone – even when the lack of sunlight can make us feel that way. Staying plugged in – to the sunshine (when we can), to fresh air, and to our friends, communities, and commitments – can help lessen the impact of SAD. Be intentional about setting appointments on your social calendar, making and keeping coffee dates, attending events to support your town, and going to see local theater. There is always plenty to do if we search for it rather than waiting for experiences or friends to come to us. 
It is also important to remember that if you or a loved one relapses during this time, you are not a failure. Relapse can be a bigger part of the recovery journey and, if it does happen, staying connected with your treatment team is essential. Do not hide a relapse from your treatment team. Isolation and secrecy only exacerbate symptoms. No matter how strong the temptation is to retreat after a setback, be open and don't push away the help you deserve. The only way to get through the storm is to go through it, just like the only way to get to the beauty of spring and summer is to go through this winter. 
If you or a loved one is experiencing suicidal thoughts or symptoms of SAD, contact emergency services, your therapist, or your treatment team immediately.  
References:  
[1] Psychology Today. (2019). Seasonal Affective Disorder. Retrieved from https://www.psychologytoday.com/intl/conditions/seasonal-affective-disorder.