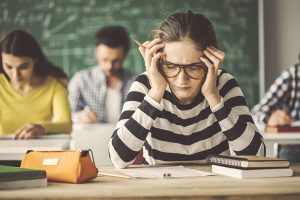 Ah, college, the freedom that many young adults look forward to. However one area that can be overlooked is how stressful this time of life can prove, especially during the first year.
A student feeling anxious, lonely or homesick, is often the norm. But, the very real mental health issues currently being experienced by college students fall into an altogether new category.
Today, a full 15 percent of university students suffer from anxiety, making it the most common mental health condition on campuses throughout our country, according to the American College Health Association (ACHA).
Recently, a research team from ACHA analyzed more than 450,000 records from undergraduates nationwide. They wanted to determine changes in mental health diagnoses and subsequent treatment in students between 2009 and 2015. They discovered significant increases in eight of the 12 mental health conditions that they were studying. The greatest increases were in those diagnosed with anxiety, depression, and panic attacks.
Diagnosis and treatment of anxiety escalated among college students by 5.6 percent, followed by depression (3.2%), and panic attacks (2.8%).
The unfortunate and alarming news is that the researchers hypothesized that the increase comes as the result of deteriorating mental health among students. Conversely, the positive news is that these young people appear to be seeking the treatment they need. Nearly a fifth of students have sought university-related services, possibly due to ongoing efforts to destigmatize mental illness throughout our country.
Researchers predict that psychiatric disorders will continue to increase in college and university students. This will inevitably prove financially burdensome to institutes of higher learning. It cost a great deal to ensure that counseling and health centers are adequately staffed in order that young adults can be helped.
So what does this mean for our students? One of the best steps we can take as a country is teaching kids how to identify and cope with stress in positive ways. Working with our young people at home and in schools and as part of extracurricular activities to establish patterns and behaviors around balanced eating, exercise, reasonable sleep, yoga, meditation or prayer will serve them well both in college and later in life.